Hotel
Hotel Information
Hyatt Regency New Orleans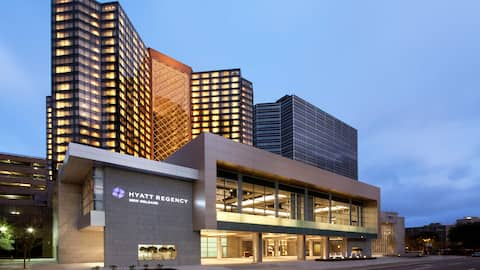 The 2020 Restoration Industry Conference and Exposition will be held at the Hyatt Regency in New Orleans, Louisiana. Discover the culture of the Crescent City at Hyatt Regency New Orleans. Centered downtown near Champions Square, Smoothie King Center, and minutes from the historic French Quarter, Arts District, and Mississippi Riverfront. There's no better place from which to explore the eclectic vibrancy of New Orleans.The Hyatt Regency new Orleans is 12 miles away from the Louis Armstrong International Airport.
A reduced conference rate of $219 per night is available to conference attendees until Friday, March 13, 2020. We encourage you to make hotel reservations at the official 2020 Annual Meeting host hotel. The hotel will accept reservations at the reduced conference rate on a space-available basis until the cut-off date. Reservations made after this date will be accepted on a first-come, first-served basis at the nearest available rate. Applied to the room charge will be state and local taxes. Reservations must be guaranteed with a major credit card at the time of reservation. Cancellations will be accepted at no charge 24 hours in advance of arrival. 
Hotel Address
Hyatt Regency New Orleans
601 Loyola Drive
New Orleans, LA 70113
504-561-1234
Unauthorized Housing Vendors
As a participant at the RIA International Restoration Convention + Industry Expo, you may be contacted by phone and/or email by outside housing companies to secure hotel reservations for the convention. The intent is to convince you that the offer is made on RIA's behalf, or that the soliciting company is a viable alternative to going directly to the hotel. These companies are not affiliated or working in partnership with RIA. Reservations made through these companies for our meeting cannot be guaranteed. If you are contacted by anyone asking if you need a room for 2020 International Restoration Convention + Industry Expo, please get as much information as you can (their name, company name, phone number, etc.) and pass it along to our team at meetings@restorationindustry.org.
Airport Information
Louis Armstrong New Orleans International Airport (MSY) is the gateway to one of the most exciting cities in the world – New Orleans, legendary for its history, food and good times. Armstrong International Airport provides a user-friendly environment that welcomes millions of travelers each year from around the world. MSY offers free Wi-Fi service throughout the terminal. Check your flight status, locate restaurant and shopping options, browse the internet, or post to your favorite social media site. The Hyatt Regency new Orleans is 12 miles away from the Louis Armstrong International Airport.